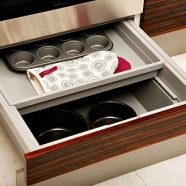 Oven drawer is generally known as the warming drawer but most of the home makers don't realize it and they are storing pots and pans in it.
The warming drawer be used for storage will not be fair at all because it is the spot to be used to keep your food warm after cooking. When you are willing to prepare more than one food at a time, you can prepare the dishes one by one and simple preserve the warmth by storing them in this warming drawer. But it is not meant to be used as the storage space to store your vessels.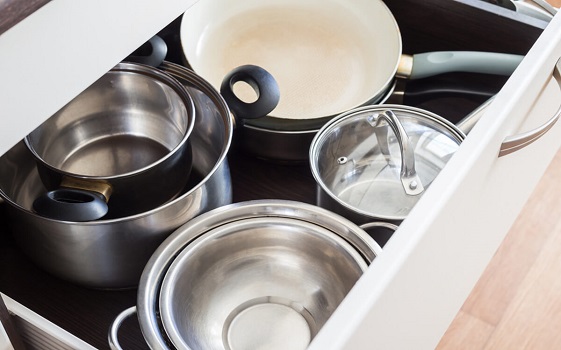 What happens if you use warming drawer as the storage space?
If you are using the warming drawer of the oven as the storage space to store your pans, pots and all other kitchen items, your vessels will be completely damaged over time. Storage in oven drawer is not always good for the lifetime of your kitchen items.
When you would want to store the vessels in it, you should need to follow this main rule which is,
If any pan or other vessel can't go into the oven, it shouldn't be kept in your oven drawer. This is because this place is always very hot in the higher level of temperature.
Anything which is cloth, plastic or paper which will easily melt or catch/worse on fire shouldn't kept in the warming drawer of your kitchen oven.
In order to avoid the unnecessary damages, you should keep all your vessels only in the kitchen storage cabinets.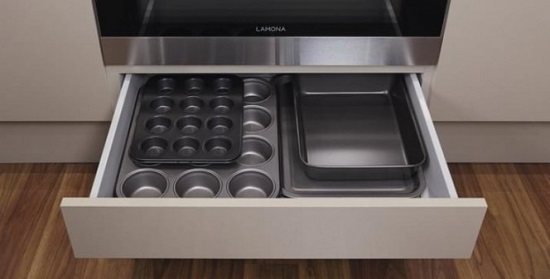 More important considerations:
Your pots, pans and bakeware such as skillets, baking sheets, pizza stones and some other casserole dishes are safe if you kept them in the oven drawer because all these materials are oven safe.
They will not get any damages under the heating element of the warm drawer. The home makers can as well as keep the additional oven racks, cooling racks or bulky kitchen utensils except plastic here if you need more space.
It is highly advised to don't store pots and pans in oven drawer because it is the most convenient place to store the items which you use only less frequently. The grill brushes, entertaining bakeware and some other accessories are absolutely the best option to store in your oven drawer.